"Reduced Security" is needed in order to use NetDrive3 on a macOS Monterey with Apple Silicon.
How to change startup disk security to "Reduced Security".
To change the level of security on your startup disk:
Shut down the Mac
Press and hold the power button until you see "Loading startup options"
Click Options
Click Continue
If asked, select a user > Click Next > Enter password for admin account
In the menu bar at the top, Select Utilities > Startup Security Utility
Select the startup disk
If the disk is encrypted, Click Unlock > Enter Password > Click Unlock
Click Security Policy
Select Reduced Security
Put a check next to "Allow user management of kernel extensions from identified developers"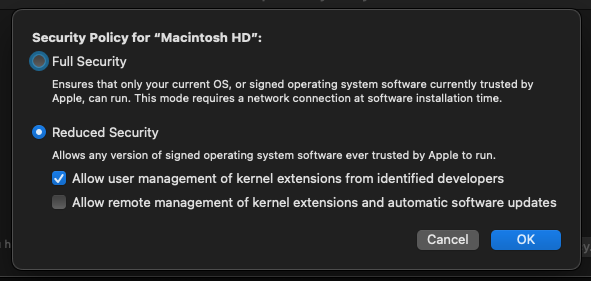 Click OK
Enter admin password > click OK
Once changes are applied, click the Apple icon and Restart
After reboot
You need to allow system software from us.