Hello, I'm having an error message pop up when starting Netdrive 3
'Netdrive3 is not initialized'
Please help troubleshoot.
Dear masterplanstudi,
Sorry for inconvenience.
Could you check the followings?
nd3svc.exe is running or not.
ndagent.exe is running or not.
If one or both of above processes are not running, check services list of your pc.
press WindowsKey + R, then input services.msc.
"NetDrive3 Agent (Product NetDrive3)" and "NetDrive3 Service (Product NetDrive3)" are in the service list or not.
Regards
Hello, here's a screenshot. Looks like both are running and in automatic, but the problem still persists.
I tried to restart both of the services as well, but didn't fix the issue.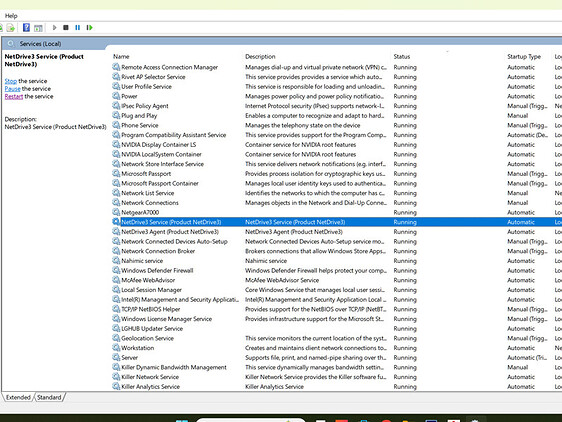 Thank you!!
Tony
Dear Tony,
To help us diagnose the issue:
Please set the log level to VERBOSE
Reproduce the problem.
Afterward, please follow the instructions in the following link to send us the debug log file:
Please be aware that the log file does not contain any login credentials. We apologize for any inconvenience this may cause.
Regards
This topic was automatically closed 7 days after the last reply. New replies are no longer allowed.