I tried to update to the latest version of CouldSync
What's the error messages?
Hi Support
There was no error message it just failed to install vcredist15_x86.exe
See attached screenshot
Regards
Rosswell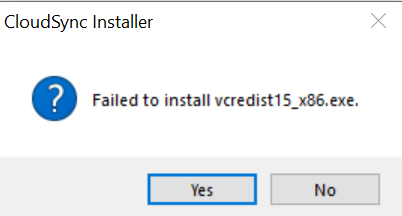 Hi Support
Please find attached a recording of my attempt to upgrade CloudSync
Best Wishes
Rosswell
(Attachment problems with cloudsync.mp4 is missing)
Please follow steps below to send us log files.
Locate the %TEMP% folder on your computer. This is typically located in the C:\ drive, and the folder is usually hidden by default.
Open the %TEMP% folder from Explorer and look for a folder named "Bdrive".
Within the Bdrive folder, look for files with log extension. These are typically the log files that are generated during an installation process.
If the log file is not present, please perform the installation again and then collect the log file.
Once you have located the log file, you can post the log file here.
It is important to note that the log file should be collected as soon as possible after the installation failure as log files are often overwritten or deleted after a period of time.
Hi Support
Please find a zip with all the .log files I could find.
Best Wishes
Rosswell
error.zip (1.43 MB)
Hi Bdrive
My system is not x86 it is a x64 so which C++ do I need to install?
Best Wishes
Rosswell
Some components of our software are x86-based, so it is necessary to install both x86 and x64 redistributables in order to run the software properly.
Best,
After installing the latest version you can safely ignore the error message. Click YES when message box pops up.
We will update our installer to include latest version of vcredist.