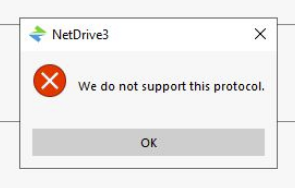 NetDrive cannot load protocol DLLs and it's often caused by missing Root Certificate.
Please follow the steps in this web site to check your Root Certificate.
http://woshub.com/updating-trusted-root-certificates-in-windows-10/
The steps are under the title 'Managing Trusted Root Certificates in Windows 10'
There must be 'COMODO RSA Certification Authority' certificate.
If you cannot find required root certificate follow the steps in the previous website to update your certificates.
Updating List of Trusted Root Certificates in Windows 10-8.1-7.pdf (2.8 MB)