After mapping FTP, the display is garbled. My FTP uses simplified Chinese,Windows 10
Hello
Thank you for using NetDrive.
Could you change character set in options after pressing "OPTIONS" in a configuration of the drive item?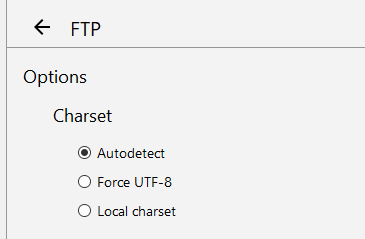 Regards
Dear support:
Thanks for your reply!
I find the OPTIONS and change to the Force UFT-8.Then My problem is solved.
Thanks.
It's a good news!
Don't hesitate to contact us.
Regards.
This topic was automatically closed 7 days after the last reply. New replies are no longer allowed.